Welcome to Master Blasting. Master Blasting is a division of Master Concrete. We are based in Lindfield NSW and Bossley Park, NSW.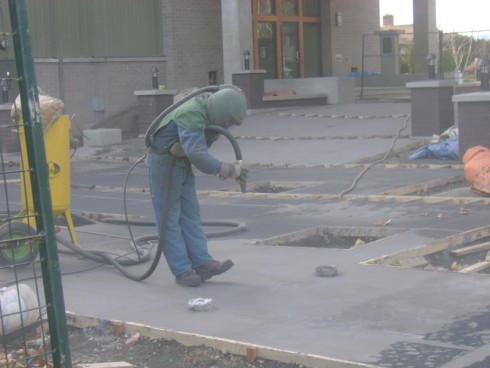 Our sandblasting experts are highly experienced and have significant knowledge to satisfy all your abrasive blasting and protective coating needs from large scale commercial works and structural steel to your rusted truck or your backyard swimming pool.
So what is Sandblasting?
Sandblasting is also known as Shot Blasting, Grit Blasting or Abrasive Blasting.
Sandblasting is a general term used to describe the act of propelling very fine bits of material at high-velocity to clean or etch a surface. Any small, relatively uniform particles will work, such as steel grit, recycled glass, garnet etc. A sandblasting setup consists of the abrasive itself, an air compressor, blast pot, hose and nozzle.
What surface can i use sandblasting on?
We commonly perform sandblasting around Sydney on concrete driveways, damaged steel, brick work, rendering, sandstone, line markings. trucks, trailers, exposed concrete and remove old protective coatings.
Why us?
Our trained, experienced operators offer reliable service with the assurance of the company's full public liability and comprehensive insurance along with full WMS & OHS policies to give peace of mind.
Our company is experienced in all scopes of work from small building work to large commercial projects. We provide free onsite quotes and can operate at any time to accommodate all job requirements.
Glebe Island Railway – Before and After Sandblasting